GPS Offroad Products recently made the long trip to Winchester Bay Oregon to participate in the 2013 Oregon Dunefest.  As the official tire sponsor of the Pacific Northwest's largest ATV and Side by Side festival, the tire manufacturer made a big splash with sand enthusiasts from all over the country.
Dunefest is a weeklong offroading event that takes place in the heart of the Oregon Dunes National Recreation area the first weekend of August.   It is billed as "the most fun a family can have in the sand" and organizers work very hard to keep the event family friendly.  There are activities ranging from drag racing to poker runs, a show 'n shine, treasure hunt as well as open riding on thousands of acres of open sand dunes.  For the sand dune enthusiast, particularly one coming from the southwest, the Oregon dunes offer spectacular scenery unlike any dune riding location in the country.
Dunefest also provides a unique opportunity for companies to display and demonstrate their products in front of thousands of offroad enthusiasts and that is exactly why GPS Offroad Products came on board as the official tire sponsor of the event.  "With the release of our new High Roller Paddle tire for side by sides, we wanted an opportunity to put the tire in front of a large audience and Dunefest was just the event to do so," said Ty Zimmerman, President of GPS Offroad Products.  The High Roller Paddle fits a specific niche in the industry for those people looking for a good sand tire without spending a fortune on something they use only a few times a year.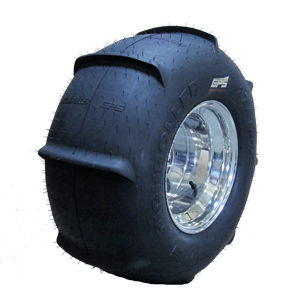 The tire itself is a 27" eight paddle design that makes use of a 12 inch wheel.  GPS opted to go with a 12" design as opposed to a 14" to provide more floatation across uneven sand.  The added sidewall also cuts down on wheel weight.  Weighing in around 17 lbs, the High Roller is available in both a four and six ply version for today's higher horsepower machines.
GPS Offroad's Dillon Zimmerman also made the trek to Oregon to participate in the sand motocross event.  Zimmerman's factory Can-Am DS450 was on display in the GPS booth on vendor row and it turned a lot of heads throughout the week according to Seth Fargher, Sales and Marketing Manager for GPS.  "Industry speaking there isn't a lot going on in the Northwest these days so having a professional from one of the country's premier racing series come to an event here is a big deal" says Fargher.   "I grew up in the NW and there just isn't much of an influence of big industry names or companies here anymore.  Local racing series like Quadcross Northwest are doing a great job of keeping  it alive but it's still fun for folks up here to have a rider that has a name in the industry come to participate in their event."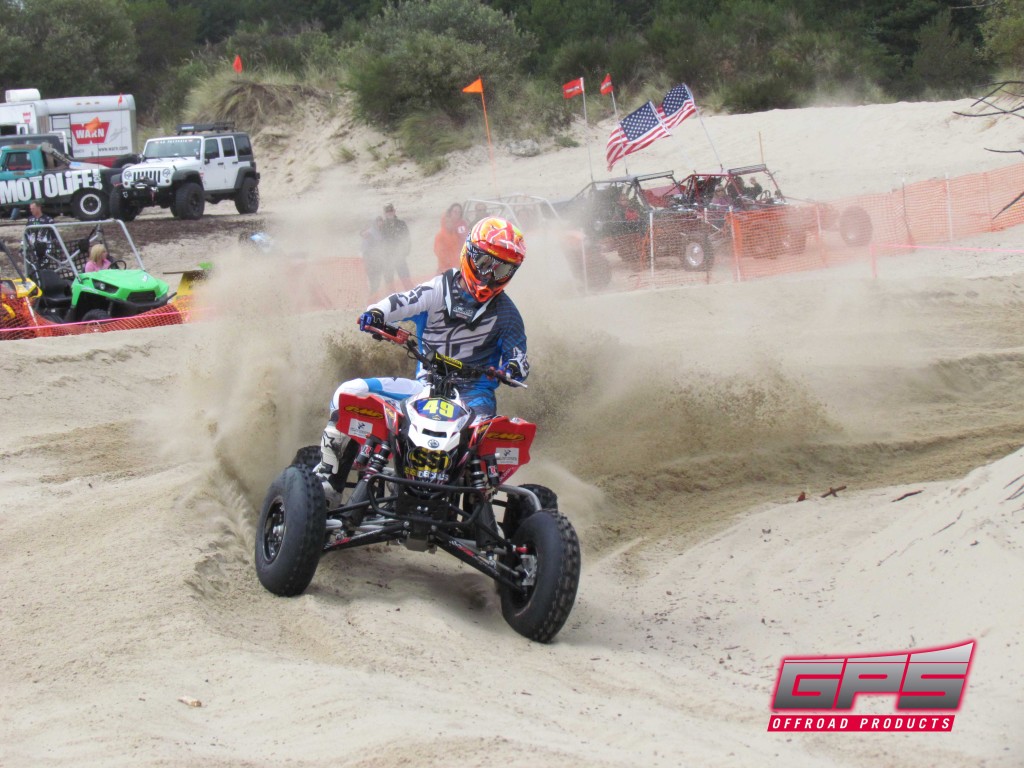 Zimmerman spent much of 2012 in Italy racing the Italian MX championship and several of their races were in the sand so this race looked to be right up his alley.  Unfortunately, after handedly winning the first moto, an electrical problem caused the bike to cut out and die during the second moto, ending his race.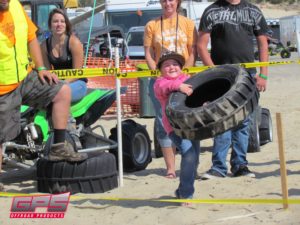 In addition to sponsoring the event and participating in the sand MX race, GPS Offroad also sponsored the popular "Tire Toss" competition.  Over 90 men, women and children, signed up to see who could throw a tire the farthest.  Contestants in the three divisions competed for a set of tires from GPS and all the winners were ecstatic with their prizes.
"Our goal is to support the sport and be able to offer something for everyone" says Fargher.  "We have a broad inventory of sand and dirt tires for ATV's, UTV's and dirtbikes so that we're not just focused on one specific niche.  Being at events like Dunefest and Rally on the rocks lets us get out there and learn what people need so we can do our best to supply what the market demands."