Jayden Londerville scores 3 OA podium finishes on GPS Wheels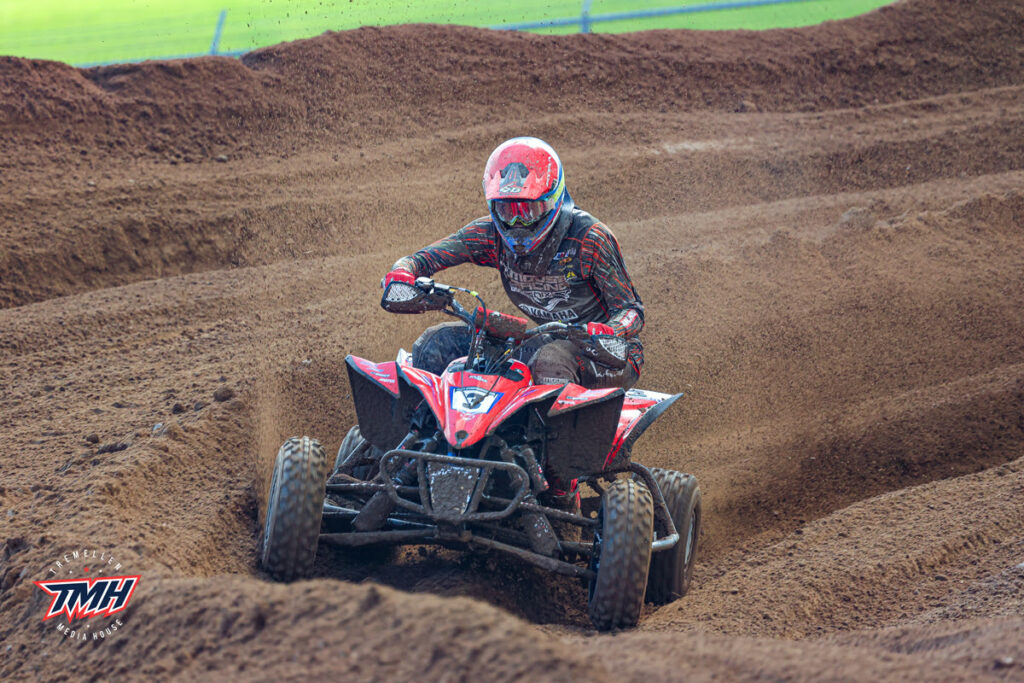 Production A – 1st OA
After a tough jump off the line, around eighth, Londerville went to work making several passes on the first lap before climbing his way into first. After he moved into the lead, he continued to push his pace. He set the fastest lap of the race at 01:53.798 on Lap 3, and then began his cruise to a win.
 
In Moto 2, the Wisconsin-native got a great start, narrowly missing the holeshot. However, he quickly snagged the lead spot within a few turns and pulled a gap on the rest of the field. He settled into the first-place spot for the remainder of the race. His 1-1 finishes earned him the overall win at Round 9.
450A – 2nd OA
With increased entries in 450A, the races were split into divisions. In his first race, Londerville pulled the holeshot and led until the second lap. Encountering a mechanical issue which only allowed him to run at half-throttle, Londerville had to settle for fourth place.
 
In Moto 2, he put his Yamaha YFZ 450R into the first-place spot by the third corner and maintained the lead for the remainder of the race. He also set the fastest lap of the race, a 01:48.283, at the midpoint. His 4-1 results not only allowed him to capture second overall but also claim the championship one round early.
In Jayden's words "Overall, it was a good weekend," said Jayden Londerville. "I could have minimized a few mistakes in the longer motos, but I feel like it was a decent points weekend."
Londerville has claimed the 450A class championship early with seven podium results this year, and has overtaken the Production A points after earning his fourth win of the year. Londerville now sits third in Pro Sport headed into the final round.

The 10-round series continues on August 13-14 at Loretta Lynn Ranch in Hurricane Mills, Tennessee.
Way to go Jayden!! 💪🏁🏆
Cody Janssen Makes Highly Anticipated Yamaha YFZ450R Debut at RedBud – 2nd OA in Jr. 25+ class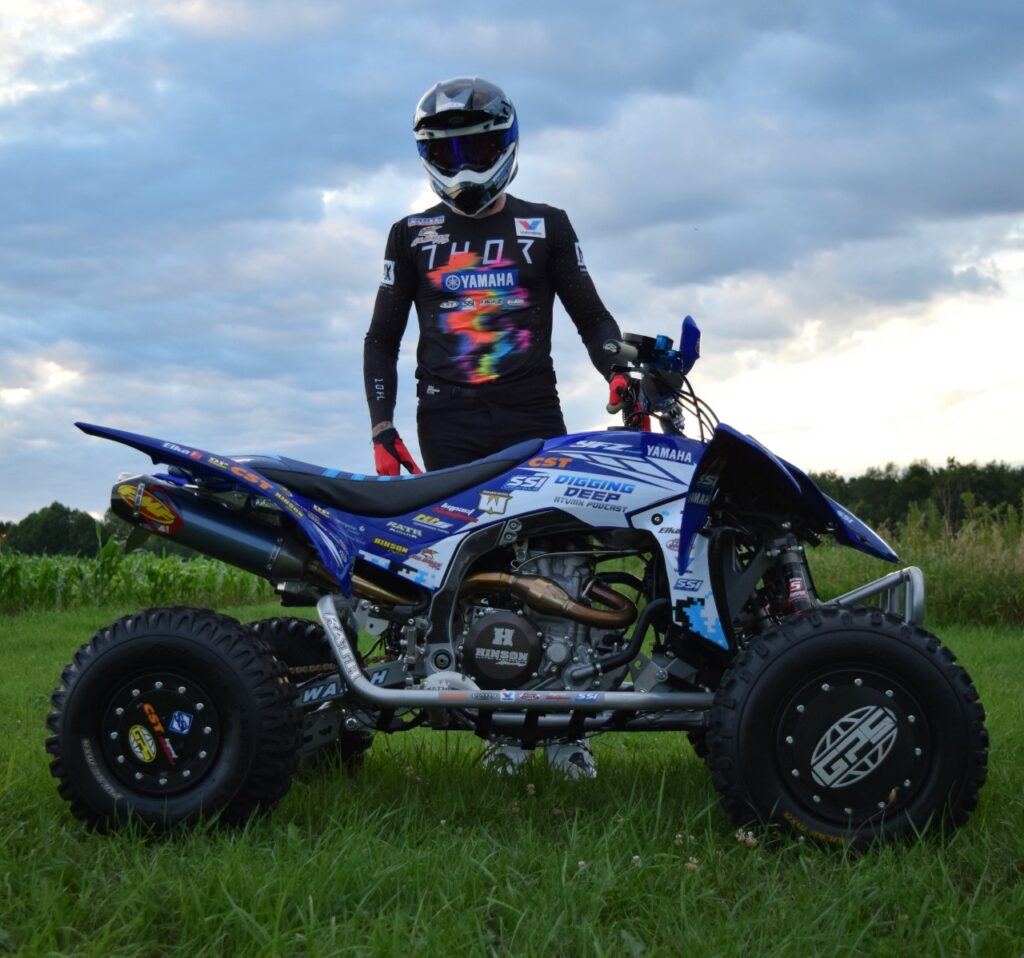 Following the 2021 season, Cody Janssen began the arduous process of switching his race program from one manufacturer to another. After more than fifteen years spent riding Honda's TRX450R model ATVs, Cody decided it was finally time to upgrade to Yamaha's industry leading YFZ450R that much outdates the rest of the sport quad market here in the year 2022. A partnership that was kickstarted by the rise of Cody's project-turned-success-story, the Digging Deep ATVMX Podcast, had now grown into a relationship between the manufacturer and himself on a personal level as well. It was a monumental task to take nearly two decades of acquired Honda parts and trade them in items for the new blue machine, but by mid-July, Cody finally had a race-built YFZ450R assembled, tuned, and ready to hit the track just in time for his favorite race of the season. Cody Janssen would be making his Yamaha debut aboard his shiny new YFZ450R at legendary RedBud! Redbud Motocross facility, located in beautiful Buchanan, Michigan, is an unequivocal favorite for motocross riders, racers, and fans alike. Famously known as the American's Motocross Track for its perfect soil, beautiful scenic views, and its' massive (and now iconic) American flag that oversees the entire facility – it truly is the American capital of motocross racing. Each year in late July, the ATV Motocross National Championship series travels to this small bustling Southwest Michigan community. Just a couple months before, again, hosting motocross' version of the Olympics, known as the Motocross of Nations (MXoN), it was the world's fastest four-wheeled racers' turn to take to the world class facility. Cody Janssen could be found at prior Midwest ATV nationals earlier this season, covering the event on behalf of the podcast he hosts despite not racing. However, he was very much looking forward to making his return to the racetrack aboard his new bLU cRU ride.
With limited riding time under his belt on the new machine, Cody set the realistic goal of simply wanting to feel like himself on the ATV – he knew that if he was able to ride to his standard, then the rest would fall into place. The weekend started out by the #25 looking good enough in practice that seemingly everyone that came in contact with Cody commented on how good he looked on the new machine, especially in the vaunted Redbud sand whoops – a strength of both Janssen and the Yamaha YFZ450R. The 25+ division, which saw Cody Janssen claim back-to-back class National Championships in 2019 and 2020, would feature its customary handful of fellow past pro riders (like Cody) and would be one of the last races of the day – making it one of the most demanding races of the weekend. The two gate drops were Cody's first ever on his new machine, but he managed just fine in both holeshots by starting around the top five. On both Saturday and Sunday, Janssen used the whoops sections and rough track conditions to his advantage, passing his way up to the runner-up position in both motos. He ended the event with his best laps of weekend, which was exactly what Cody hoped to do heading into the final moto – putting an exclamation point on his return to racing!
"Words can't even describe how good it was to be back at the races this weekend!" Cody posted to his official social media account following his return. "It had been nearly a year since my last gate drop, by far my longest drought in the last 24+ years, but the maiden voyage on the Yamaha was a major success! Ended up P-2 on the weekend and I have no shame in finishing runner-up to Brett Musick, he's one of the baddest dudes in the sport right now. My main goal was to feel like myself on the machine and I believe we achieved that; I felt better every time I hit the track. What an awesome starting point this is, and I can't wait to build on the foundation we've laid." Cody went on to say: "SO many of you made my weekend special by making me feel like the ATV nationals missed me. Every single one of you that stopped me for a picture, an autograph, or just to chat about my YFZ450R, I appreciate you so much. Redbud never disappoints! We had a freaking blast! If you want to hear more about my Yamaha YFZ450R project build, you can read the full article at diggingdeepatvmx.com or listen to [Episode 89] of the Digging Deep ATVMX Podcast on all your favorite podcast platforms or diggingdeeppod.com! Thanks to all my supporters, you make it possible! Cannot wait for Loretta's! I'M BACK."
Cody has always been a firm believer that everything happens for a reason. Sure, he hated to miss the ATV Motocross National events at Sunset Ridge and Ironman, among others, but after a perfect week that's only flaw was finishing one position short of the ultimate goal – it makes everything feel like it was meant to happen this way. Due to supply chain issue with certain items, Cody and his crew were forced to take their time assembling his beautiful new YFZ450R. By the time it was fully built and tuned, the world's most prestigious ATV racing series was in the midst of its longest summer break in recent memory. This lull further delayed Cody's return, but also gave him time to fine-tune his machine and author a detailed Yamaha YFZ450R Build Guide for the Digging Deep platform that will assist others who follow in his footsteps by upgrading to the industry leading sport ATV. Everything happens for a reason! There are so many people whom Cody must thank in helping make his return to racing a successful one.Cody must thank all the loyal listeners and partners of his Digging Deep ATVMX Podcast, the most listened-to podcast in ATV racing! He must also thank the riders and families who have trusted and supported the Cody Janssen Riding School over the years. Thank you to his family, fiancée Brooke, mechanic Dan Binder, and the rest of the crew at Janssen Motorsports. Extreme gratitude continues to GPS Offroad Products, Ameriprise and the Hemauer Financial Group, E-Z Up Brand, Klink Equipment and Klink Hydraulics, Jay Gobel and Casey Greek of Impact Solutions, Hinson Clutch Components, Thor MX, Parts Unlimited, D.I.D Chain, Atlas Brace, the Stanfield family and Napa (of Peru, Indiana), Cliff Cox and Oshkosh Tattoo & Good Girl Piercing, Precision Powder LLC, Bell Helmets, Ride 100% Brand, Trimble's Cycle Center, DT1 Filters, Larry Mills and DP Brakes, Rath Racing, Walsh RaceCraft, Fourwerx Carbon, Sunstar Sprockets, Works Connection, Renthal, PRP Racing, Pro-Tec Racing, B.C.C. Skids, Evans Waterless Powersports Coolant, Blenders Eyewear, Rocket Machining and Design, Northern Chill, Rocky Mountain ATV MC, producer Dallas Janssen, and many others. Without such incredible support, the continued pursuit of dreams and goals would never be possible – including adding to his 42 national event win total, 4 National Championships (including back-to-back titles in 2019 & 2020), and all the priceless memories made along the way.
In the wake of the devastation suffered by flooding in the area following last year's event, the ATV Motocross National Championship makes it triumphant return to Loretta Lynn's Dude Ranch in Hurricane Mills, Tennessee, on the weekend of August 13-14. After getting warmed up at Redbud, Cody Janssen and his Yamaha YFZ450R have been anxiously awaiting this trip to one of the most historic locations in all of motocross where he and his crew have enjoyed a great deal of success over the years. Wishing you safe travels, and we'll see you at "The Ranch"!